Mike's covers are beloved by such original artists such as Toto, Rush, Sarah McLachlan, Asia, Toad the Wet Sprocket, Boston, Dennis DeYoung (Styx) and Third Eye Blind. Watch Toto's favorite cover of "Africa."
"We were so captivated by the music it made for the best concert ever."
"I was blown away by the clarity, the simplicity and emotion and the quality of the performance"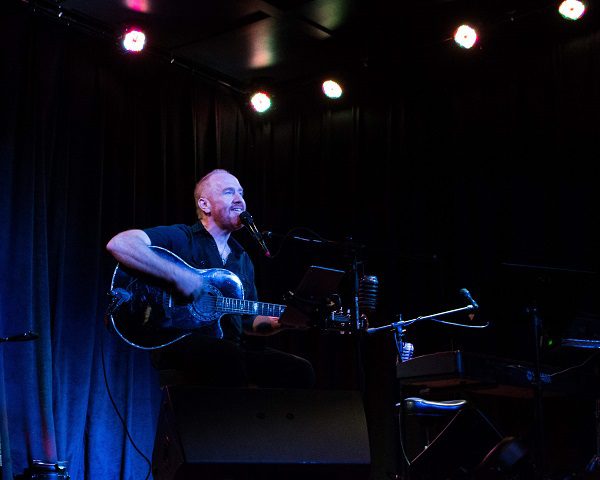 "You could feel the music they delivered, and it made you believe."
"There were times we were moved to tears throughout the set."
"Mike has a very unique sound and an incredible voice."
– Fan quotes from the Salt Lake Tribune
Client Comments
Mike and Jeff performed at an outdoor concert we hosted for friends at our place in the Catskills, NY. They are possibly one of the best cover bands we've seen, with wonderful renditions of Beatles, Bowie, Who, Radiohead, Floyd, and many other of our favorite bands. They're down to earth, flexible, and were very easy to work with as we planned the event. The event itself was a big success, and we're so happy we chose Mike and Jeff to perform for us! I highly recommend them to anyone that is looking for a cover band for their event, especially if you're into the same music as them!
-N. Pawar
Livingston Manor, NY (private party)
Mike is a rare, special talent. A stunning voice and a unique approach to our favorite songs. His music is a remarkable balance of standing strong and entertaining on it's own—Mike plays sold-out shows in venues around the world in front of people who come to just see him—with a vibe that's perfectly suitable for auxiliary entertainment at events. I've hired him for the latter, and I can tell you my guests felt an exceptional level of hospitality because Mike is an exceptional talent. I can't wait for an excuse to hire him again.
-Aaron Templer
President, Colorado AMA (corporate event)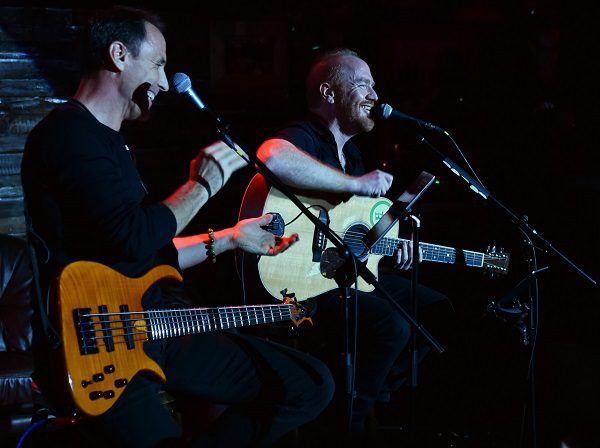 We have been fans of Mike and Jeff for YEARS, following them on YouTube. When we decided to have a fundraiser for my MS treatment center, they were our first choice for the evening's entertainment. We couldn't wait for our guests to enjoy their music as much as we did. And they certainly did; they were the hit of the night. I would highly recommend Mike to anyone looking for a quality musician and performance. He was very professional and easy to work with in planning the trip from Colorado to NJ. I felt he cared as much about our cause as he did about his performance. We would love to get to Colorado to see him again soon!
Terri & Mike Renegar, NJ (fundraiser)
We booked Mike and Jeff Hall to play an acoustic set at CampMinder's annual pre-summer party. Mike made booking the event efficient and easy. They showed up with plenty of time to set up and were very flexible and accommodating. The set itself was fantastic, as they have a tremendous repertoire of crowd-pleasing covers. Overall, I would highly recommend them and would book them for another event without hesitation!
-Dan Konigsberg
Founder/CEO, CampMinder Boulder, CO (corporate event)
Mike was all spades! Not only did he travel to a remote site in Montana but put on and performed in the best possible way for our wedding! We had wanted Mike to be at our wedding before we had contacted him, so to have him there was just outstanding! Mike's great on video but even better in person! I have no hesitation to recommend Mike for ANY event. The man's got SKILLS!
-William (wedding)
Mike has the best voice and music repertoire. I couldn't have asked for better music for my wedding. I still get compliments about it. He's extremely professional and very fun to work with.
-Jana (wedding)
I've been a fan of Mike's music for years—decades, actually—so was thrilled when he agreed to play at my outdoor wedding reception. It was a good-sized backyard venue and he filled the space perfectly. He brought all his own equipment, arrived in plenty of time to set up, handled requests, and gave it just the perfect touch. His voice is clear and angelic, and his guitar skills are amazing. He'll sing songs from just about any era or genre—perfect music for a relaxed wedding party.
-Julie (wedding)
Mike Masse is an amazing musician. I honestly have to say, he does a better job than many of the original artists. My bride was quite pleased on a leap of faith when I suggested him. Definitely a highlight of my big day!
-James (wedding)
The first music I ever played my wife, Jodie, was Mike Masse and Jeff Hall playing Toto's "Africa". Since then it immediately became our song. When it came the time to marry, I had no doubt as to whom should play our first dance: it had to be Mike and Jeff. The small matter of 5,000 miles between the guys and our wedding venue and 8,500 miles from our home in Dubai, mattered little to me – It was a decision that would make a perfect wedding even better, not only was our first dance amazing, but they played the whole evening, above and beyond our agreed timeframe. When we met Mike and Jeff, we immediately knew that this was the best decision we could have made. They were genuinely lovely and so keen to ensure that we had the perfect evening for our special day. We have no doubt that we will see them both again and are already planning an American visit to catch them on tour. Mike and Jeff we salute you, you are a genuinely amazing act, wonderful musicians, fantastically talented musicians, and we cannot recommend you highly enough.
Very best regards, your friends,
David and Jodie Austin (wedding)
My fiancé had arranged for Mike to come to play at our wedding as a surprise/gift to me. One year ago today, I walked from my room down to the level where the welcome reception for our wedding guests was set up. I saw the first two guests to arrive who were sitting in a pavilion listening to a guy playing Wild Horses in the corner. I told them that they were in the wrong section because we didn't arrange live music for the reception. When they told me that they were told this was the "Wine/Hodges" pavilion, I looked again at the guy in the corner and did a quadruple take (at least). I walked up to him as he finished the song and asked him "Are you Mike?" When he said yes, I said "I can't believe you're here" followed by a stream of tears down my face. I had been listening to Mike since I read about him on the Acoustic Guitar Forum under the heading "Acoustic Players You Should Know". Since then, we played everything we could find of his online and introduced his music to everyone we know. But to have him sitting in front of me at my wedding was more than I could have imagined. Mike played that night and then the next evening on a catamaran that we hired for our guests for a sunset cruise around Key West. He was amazing in every way. It was hot, humid, and the catamaran rental folks forgot to bring the generator to run the PA on the boat. Mike patiently waited until they got things squared away, and then put on an amazing performance. He played every request, and by the end of the cruise, sixty people had forgotten about the sunset and were just listening to Mike play. With such a wide mix of folks, many of the songs were heard by some of our guests for the first time while others were glowing reminders of tunes we loved when we first heard them. For us (and I think for our guests) Mike's performance added something to our wedding that will make it remembered by many as "the best wedding we've ever been to . . ." One year later, any time we talk to folks who were there, they mention the wedding and, every time, they bring up Mike and how good he was. He IS that good and if we ever plan an event again that can include entertainment, we will call Mike. Hopefully, Jeff will be able to come too. Thanks again Mike, you provided one of the best moments of our lives.
-Jim and Andrea (wedding)
We hired Mike Masse to perform at our family reunion in Orlando, FL, in May of 2017. Mike was able to make the event truly special – due to his enthusiasm, great musical talents, and engaging approach. Mike was very open to song recommendations – taking direction and guidance before the event. We appreciate the variety of covers he played from the Beatles, Elton John, David Bowie, and others! We couldn't have been more pleased with our experience with Mike – he instantly became a focal point of the event, creating a memory that our family will cherish for many years to come. As a value-add to our evening, Mike even held a small jam session with a couple of our family members – fun times! If the opportunity ever presents itself in the future, we will absolutely hire Mike again!
-Jessica (private party)